The XIII Lionel Tertis Viola Competition (6 – 14 April) proved to be a most exciting and enjoyable one. All 36 violists who competed in Port Erin demonstrated their musicianship to great effect and proved why they had been selected from the 120 applicants. Congratulations go to the eight wonderful semifinalists: Paul Adrien Zientara (France), Emma Wernig (Germany/USA), Natalie Loughton (USA), Jordan Bak (USA), Saki Ishida (Japan), Toby Cook (UK), Paul Vincent Laraia (USA) and Yuchen Lu (China). And special congratulations go to Paul Vincent Laraia  (First Prize) , Yuchen Lu (Second Prize) and Paul Adrien Zientara (Third Prize) in a very close competition. With the generous support of The Tertis Foundation, the Isle of Man Arts Council and many other supporters these deserving contestants were all recipients of awards.
Throughout the week, there were some outstanding performances including many of the beautifully written set work, Canto, by Roxanna Panufnik. Paul Vincent Laraia, Yuchen Lu, Paul Adrien Zientara and Toby Cook deserve especial mention in this respect. There were most impressive performances of Bach's Suite No 6 Prelude and Paganini's Caprice Op 1 No 20 from Saki Ishida, and Jordan Bak gave a really exciting account of the Bach Fantasia Chromatica and the Sonata of Arthur Bliss. Hindemith's Der Schwanendreher was played superbly by Shuo Xu whilst Aoi Murase played the Ligeti Sonata most impressively. Jordan Bak's Schnittke Concerto should also be commended as should a beautiful and lyrical performance of the York Bowen Sonata by Keigo Suzuki. There were many more memorable performances…….the list could go on and on.
Thanks to John Bethell and the whole team at the Erin Arts Centre for all that was done to make the week a happy and enjoyable one. Thanks too to Louise Lansdowne and Lucy Nolan for all they did to make the Viola Festival a success. Also to my fellow jurors, William Coleman, Carol Rodland, Danusha Waskiewicz and Mikhail Zemtsov for playing brilliant recitals and giving a masterclass each during their busy week. Accompanists Caroline Dowdle, Robert Markham, Antony Hewitt and HunJu Sohnn also deserve medals for tireless and top quality pianism thoughout the week. An finally thanks to Simon Blendis and Jane Salmon for their perfromances of Beethoven and Dohnanyi, not to mention the Ghost and the Mendelssohn D minor with Robert Markham.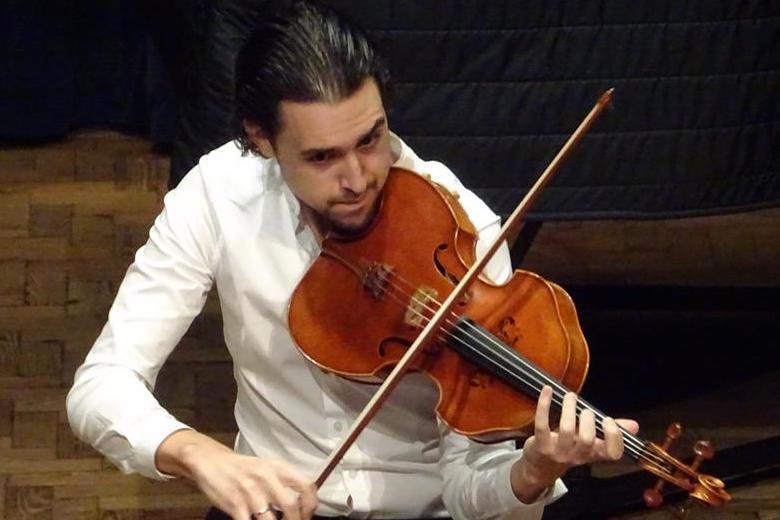 Paul Vincent Laraia
The weather was on our side so the Isle of Man was seen in its very best light!
Sunset at Port Erin during the competition.